Could You Be a Vegan?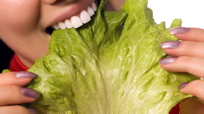 Vegans have some serious willpower. They say "no, thank you" to all animal products, meaning no meat, no eggs, no dairy, no products tested on animals and nothing made from fur, leather, wool or down. We're guessing this was NOT a popular lifestyle in colonial times.

Today, vegans make these sacrifices to support a cruelty-free lifestyle, use up fewer resources than animal agriculture and lower their risk of developing certain illnesses, thanks to their low-fat, cholesterol-free, fiber-full, nutrient-rich and super-hyphenated diet. And you support all that. You're just not ready to give up cheese. Or eggs. Or your favorite shoes.

So do the next best thing—try the middle ground. You might avoid all meat except fish (gotta love Omega-3s!), while still enjoying omelets, provided the eggs are from legitimately cage-free chickens. Or you might switch to chemical free cosmetics not tested on animals. Or wear only non-leather shoes.

By following part of the vegan philosophy, you, the animals and the environment still get some of the benefits. Which is way better than no benefits at all.
Posted: 11/13/08