Hug A Vet Today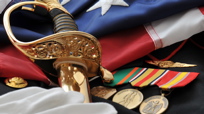 It's Veteran's Day, a day to honor the men and women who have served in the armed forces.

Veteran's Day may not be one of the most spectacular holidays (you probably won't even get the day off, darn it), but there are still ways to celebrate. Have a party for that special veteran in your life. Consider volunteering at a local VA medical facility. If you have older children, encourage them to ask veterans about their service experience. It may be the first opportunity they've had in years to share these feelings.

Even if you're an "anti-everything-you-don't-agree-with" kind of person, try to see things from a veteran's perspective. Imagine the hardships, sacrifices and frightening experiences they must have gone through to support and create change. Surely you've faced some hardship of your own that can help you empathize. Seeing things from other perspectives is the key to greater tolerance and compassion. Put yourself in someone else's shoes as often as you can, and your "anti-attitude" may just start to disappear.
Posted: 11/11/08