Go Big or Go Home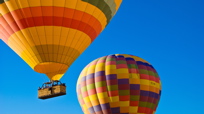 Have you always wanted to drive across a state border just to grab the state's signature meal? Or wanted to skip work and spend the day out and about with your friends or on the couch drinking hot chocolate and watching soap operas? In honor of the Albuquerque International Balloon Fiesta, the world's largest ballooning event that starts tomorrow and runs for nine straight days, go out (or stay in) and make one of your outlandish or "silly" dreams come true!

Play hooky and go to Six Flags, research hot air balloon rides in your areas (then plan the day to go!), sneak into a movie and if you've actually always wanted to attend this New Mexican festival, use some of those vacation days and book the trip--even on such short notice. With our filled planners and multi-tasked lives, a breath of fresh spontaneity is needed once in a while to keep us feeling happy (and sane).

What are some of your "silly" dreams? Let us know which ones you make come true today!
Posted: 10/3/08