Room at the Ramadan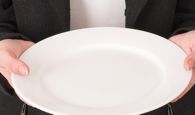 If you aren't as spiritual as you'd like to be, maybe its time to widen your perspective. Learning about other religions can help you gain insight into your own.

Take Ramadan, for instance. Perhaps you've heard of it but don't have a clue as to what it marks. In September, Muslims observe the month-long Fast of Ramadan, meaning no food or drink all day and only a small meal at night. (Suddenly, giving up bread for Passover or Twix bars for Lent doesn't seem so bad, does it?)

During the fast, Muslims focus on strengthening family/community ties and purifying the soul through prayer, charity and forgiveness. The fast is broken with a three day feast called Eid. The spiritual focus of the holiday is one that anybody can gain from—the tenets of love, renewal and giving are ones found in nearly every religion.

Living more spiritually—although not necessarily like a Muslim—may be an element that's been missing from your life. Ask yourself what steps you're taking towards a more spiritual life, and if you can't think of any or aren't sure where to begin, try fasting for a day or even a meal and see what it does for your spirit. Explore Ramadan and other significant religious holidays. You may not fast for a month, but think of how you might change your perspective.
Posted: 9/2/08