Lard and Lattes.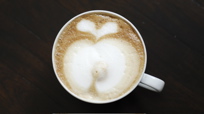 Previously, we mentioned that people tend to consume an average of 115 extra calories each weekend day, resulting in a five pound weight gain after a year. Well, get a load of this (or from this, as you'll see shortly): If you drink one "skinny" latte from The Coffee Chain That Shall Not Be Named every morning, you're ingesting at least 130 empty calories a day.

Math time. It takes about 3500 calories to equal one pound of body weight. So if you drink, say, five skinny lattes a week, that's 650 calories, meaning you should have no trouble packing on those five extra pounds in about 6 months.

Sorry, you prefer regular lattes? At 330 calories a pop, those 5 pounds of lard can be yours in just 10 short weeks.

Suddenly, that plain coffee or tea doesn't sound so bad.
Posted: 6/24/08