Get Thee to a Nunnery.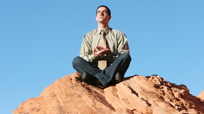 All thoughts are gone, your body is as light as a feather, the world is humming with good vibrations… breathing in… breathing out…

Mom/Dad, have you seen my iPod?

You can hardly take an uninterrupted shower these days, let alone meditate—except for those rare occasions where all the planets are aligned and everyone's out of the house. The last time that happened was… let's see… February 12, 2002.

Maybe you need a spiritual retreat—some time alone for you, yourself and nothing but yourself, with no interruptions. To find one in your area, go to Findthedivine.com, a site dedicated to helping you "retreat from life's hectic pace [and reconnect to your] soul, purpose and nature." Leave your Blackberrys, iPods and laptops behind and experience the joy and wonder of being alone.

No experience necessary.
Posted: 6/16/08