News
The latest news on this change — carefully culled from the world wide web by our change agents. They do the surfing, so you don't have to!
Get Your Motor Runnin'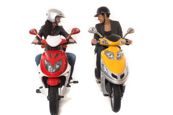 If you don't have the budget for a new car, and think motorcycles are just for guys with beards and leather pants, you might want to consider some of the other two-wheeled commuter vehicles out on the market. They're hip, fast, have great gas mileage and most new models cost less than $10,000.

A New York Times reporter recently test-drove several two-wheel commuter vehicles including Kawasaki Ninja 250R, the Suzuki DR-Z400SM and the Vespa GTS 250 in order to find out first hand about drivability, mileage and the overall cool factor.

We know a few people in our nabe who rock a Vespa...and in addition to great mileage, it just seems like fun to drive one!
Could cost and fuel-efficiency be enough for you abandon your traditional vehicle? If not, what would it take for you to strap on a helmet and join the fleet of two-wheeled commuters?
Posted: 10/6/08