News
The latest news on this change — carefully culled from the world wide web by our change agents. They do the surfing, so you don't have to!
Step Right Up!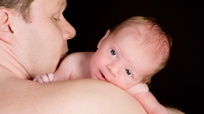 He's done it again! Thomas Beatie—who made headlines earlier this year when he announced he was pregnant with his first child—announced to Barbara Walters that his expecting another bundle of joy this summer in an interview set to air on Nov. 14th.

Born Tracy LaGondino, Beatie underwent a sexual reassignment procedure in order to become a man. Lucky for him, though, he kept his female reproductive organs. When his wife was unable to get pregnant due to a hysterectomy, Beatie decided to put his uterus to work and carry a child himself. Their daughter, Susan, was born in July.

When you think of it, Beatie's story really should give some hope to women struggling with fertility issues. After years on high levels of testosterone, he has been able to conceive not once, but twice (the first pregnancy was achieved after two rounds of IVF). In fact, he reportedly hadn't menstruated for eight years before stopping his hormone therapy.

Still, some people find Beatie's journey into parenthood a little too much for the brain to handle. Tell us: what do you think?
Posted: 11/14/08