News
The latest news on this change — carefully culled from the world wide web by our change agents. They do the surfing, so you don't have to!
Something's Fishy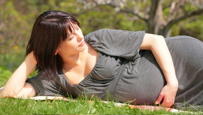 During my first prenatal visit with my obstetrician, she went over a list of foods I should stay away from during my pregnancy, which included certain deli meats, soft cheeses, raw fish (goodbye beloved sushi), and a number of cooked fish that are high in mercury.

Mercury is a neurotoxin especially dangerous to newborns and infants, which is why pregnant women are told to avoid them during those nine months (some fish high in mercury include shark, swordfish, king mackerel, and tilefish.) So I was a bit surprised by a recent Washington Post story on how the FDA is backtracking on its prior recommendations and will soon
encourage expectant moms to start eating all types of fish.

In fact, the organization has reportedly been circulating a draft report within the government that argues the health benefits of eating fish outweigh the potential ill effects of mercury.

Some environmental agencies—along with certain members of Congress—are crying foul, saying that the FDA doesn't have enough scientific evidence to back up its new claim, and the research they do have is "scientifically flawed."

I don't know about you, but I have had it with the FDA. Between their flip-flopping on BPA in baby bottles and their failure to disclose traces of melamine in certain US baby formulas (they only did so after the Associated Press requested the info for a story), it seems the organization really doesn't care about the health of our nation's kids. As parents, we rely on groups like the FDA to help us keep our children safe. If we can't trust them, then where do we turn? What do you think about the FDA's possible new stance on mercury? Sound off below.
Posted: 12/22/08