News
The latest news on this change — carefully culled from the world wide web by our change agents. They do the surfing, so you don't have to!
Snack Attack!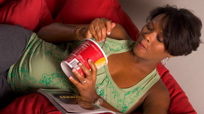 Being pregnant means restrictions, restrictions, restrictions! Most of us have no problem complying because we only want what's most healthy for the little one growing in our tummies, but that doesn't mean we won't miss the Mojito on a hot summer night, or multiple Starbucks runs for that much needed caffeine boost.

So with all these big bold "no ways" what CAN a woman who's expecting chow down on besides fruits and veggies? Something a little sinful perhaps? Even though most raw fish is not safe while you're expecting, you can have California rolls [if you're a sushi lover,] but try to avoid seafood that's farm raised, and if you really need a salmon kick buy wild!

Feel like having a drink when you're celebrating something? Here's a recipe for alcohol free Champagne. Might not have the same effect as Dom Perignon, but it will do for now! If you're in the mood for something sweet, why don't you have vanilla yogurt with chocolate chips? It'll provide you with the calcium you need, and it's sweet and delish. There's lots of pregnancy-safe snacks and they'll leave you and your baby feeling healthy.

What snacks did you crave while pregnant? Share your favorites with us here.
Posted: 6/27/08