News
The latest news on this change — carefully culled from the world wide web by our change agents. They do the surfing, so you don't have to!
Hot Momma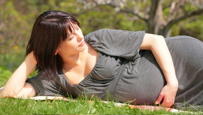 Being pregnant in the summer can be uncomfortable. Your ankles are swelling, your clothes are sticking to you, you're hot, and you want nothing more than to sit back and have a Pina Colada...with rum (come to think of it, that sounds a whole lot like our summer, and we're not even expecting!) To make the time pass, and to keep as comfortable as possible during even the hottest days, try to follow some of these simple tips to stay cool, and keep you and your baby safe.

Go out in the morning or evening and avoid the afternoon's sweltering heat if possible...if the temperature reaches over 95 degrees and the humidity is killer try to stay indoors all together, and drink loads of fluids. To keep comfortable wear loose cotton dresses, or tunic tops that allow your body to breathe. Make sure you rest with your feet up to prevent swelling. Swollen feet are common during summer pregnancies and can be incredibly uncomfortable.

Did you know that pregnant women are more prone to sunburn? Make sure you load up on sunscreen [even if you normally tan] to prevent painful burning. If you can, go swimming! You'll feel a million times better [and a million times lighter!] floating around in a pool.

Summer pregnancies can be miserable, but if you follow these tips you're on your way to a more comfortable few months. If you find yourself drinking an extreme amount of water, or that your ankles are swelling more than usual call your doctor because these can [in some cases] be signs of gestational diabetes.
Share your tips for staying comfortable during pregancy, please!
Posted: 6/18/08