News
The latest news on this change — carefully culled from the world wide web by our change agents. They do the surfing, so you don't have to!
Home Sweet Home Birth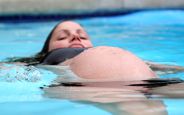 We understand the need to make the experience of giving birth as comfortable as possible (after all, it's one of the most uncomfortable events in a woman's life), so we weren't surprised to read in The New York Times that home births are on the rise—even in cramped NYC apartments that offer little privacy.

But for these women, a few noisy neighbors are fine if it means skipping the hospital. Pregnant women across the country say that they're worried about receiving medical intervention, especially with the rising rate of C-sections. Others have been inspired by the documentary "The Business of Being Born," which features producer Ricki Lake giving birth in the tub of her NYC apartment.

We must admit, the idea of a home birth sounds intriguing. But we're also a little high-maintenance, and this is a messy process. One midwife explained that couples should get the pads used for house-training puppies. Giving birth while sitting on a Wee Wee pad? That part isn't as intriguing.

And of course, there are the risks: What if something goes wrong? Is a midwife really equipped to deal with a serious medical emergency? If you're planning a home birth or have had one, share your story!
Posted: 11/17/08