News
The latest news on this change — carefully culled from the world wide web by our change agents. They do the surfing, so you don't have to!
Delivery Drama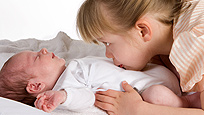 Jaidan Lujan definitely deserves a really great birthday present this year: the 9 year-old Sacramento, Calif., girl actually delivered her own baby brother last week when her mother went into early labor.

While we think this is a big deal, Jaidan is pretty nonchalant about the whole thing. In fact, she told "The Today Show" she was "more freaked than scared."

Meanwhile, her mom, Valerie, had thought she was in labor the day before, but was told at the hospital that she was experiencing Braxton Hicks and was sent home. Early the next morning, she woke up and knew something wasn't right—and soon after that her water broke.

With a 911 operator on the phone to guide her, Jaidan delivered her brother Kai'rin, placing him gently on a towel and tying off his umbilical cord with her shoelace. Both mother and baby are fine—and big sister has a story she can tell for years to come!



Posted: 9/18/08