News
The latest news on this change — carefully culled from the world wide web by our change agents. They do the surfing, so you don't have to!
Beating the Biological Clock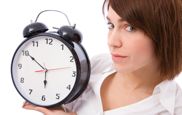 It's no secret that more and more women are having babies at a later age, causing some of us to worry about chances of conceiving. Now, there's a new fertility test on the market that claims it can actually count how many eggs we have left in our ovaries.

PlanAhead allegedly estimates how many eggs remain by checking the levels of three ovarian-related hormones.
We say "allegedly" because the product—which costs $350—hasn't been approved by the FDA, so it's considered purely experimental. And of course, there are other non-egg related problems that can interfere with a woman's fertility. Experts are skeptical about how accurate (and worthwhile) this test truly is, but we want to know what you think. Would you spend money on this sort of test to determine whether pregnancy is an option? Or do you need more concrete evidence that the product really works?
Posted: 9/7/08