News
The latest news on this change — carefully culled from the world wide web by our change agents. They do the surfing, so you don't have to!
To Co-Sleep, No Chance to Dream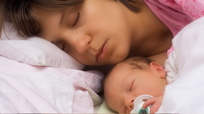 For new moms and dads, the co-sleeping debate is about as tiring as, well, waking up to a crying newborn every two hours. And it doesn't help that there are conflicting research and opinions on the issue everywhere you turn.

In an attempt to make life for us parenting newbies a little easier, Babble.com compiled the opinions of leading childcare experts to find out if co-sleeping is a wonderful bonding experience for parent and child—or a dangerous practice that should be avoided at all costs. We'd love to tell you that the answer to the question is found in their responses, but the truth is it's still a complicated issue. But it is interesting to note that a few doctors have softened their stance a bit.

While Dr. Spock, the childcare guru of moms and dads the world over, is still completely against it, Dr. William Sears and Dr. Alan Greene admit that some form of co-sleeping is okay—provided proper measures are taken.

And Dr. Ferber—who invented the world-renowned "Ferber Method" to get babies to sleep through the night—also now concedes that "children can sleep well during a wide range of circumstances." He does caution, however, that many parents have difficulty stopping the practice. A valid point considering that we personally know a few parents that now have a five, six, or seven-year old in their beds every night. That can't make for a restful sleep—and we're guessing any romance between mom and dad is surely falling by the wayside.

Is there a baby in your bed? How do you feel about it? Sound off below.
Posted: 11/12/08