News
The latest news on this change — carefully culled from the world wide web by our change agents. They do the surfing, so you don't have to!
From the Mouths of Babes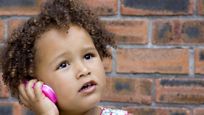 Pencils? Check. Notebook? Right on. Cell phone with GPS? Got it.
That last little school supply is going into more and more backpacks this fall as parents concerned about keeping track of their kids want to be able to reach them at a moment's notice.

The Center on Media and Child Health's web site says that 54% of kids 8-12 will have a cell phone in the next three years. Sure, it's peace of mind for moms and dads, but what benefit is there to the child? Most educators probably perceive cell phones as a distraction, as kids can run up phone bills and spend more time on games and ringtones than schoolwork.
CNN provides some excellent thoughts on the matter, including whether or not cell phones actually make kids safer or just provide feelings of safety. Read up and then chime in—will there be a cell phone in your kid's backpack this fall?
Posted: 8/11/08