News
The latest news on this change — carefully culled from the world wide web by our change agents. They do the surfing, so you don't have to!
Fabulous Father's Day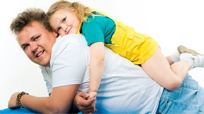 Wow, big guy. You have your own holiday now? Pretty impressive. Want to know what's really impressive? How you are such a great new dad for being here and wanting to learn about becoming an even more outrageous, super fantastic dad. Now that's something to strive for!

Hopefully, whether your baby is big or small, you have plans for Sunday. None yet? Pick a favorite—this may be one of the only days of the year you get the final word. Going to the beach, the golf course or the football field to teach little Junior how to throw? It's never too early to start!

And while it's awesome to get out, if it's not in the budget or the weather isn't cooperating, try a local restaurant for a big brunch…or create your own at home. Father's Day is all about quality family time, and truthfully, you can do that anywhere. So rent a movie, snuggle close with the whole family on the couch and even crack open a bottle of wine—only for you and mom, of course!

Since this is your day, Dad, tell us—what makes you a great father?
Posted: 6/13/08