News
The latest news on this change — carefully culled from the world wide web by our change agents. They do the surfing, so you don't have to!
Bug Off!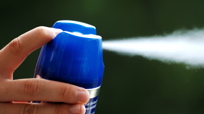 Kids dig bugs. Capturing them, examining them, [hopefully] setting them free after experimentation that has you searching for nail files and magnifying glasses. But, babies? No, babies don't like bugs...and if you're like us, you want to keep your baby as bug free as possible this summer. If you've noticed, it's been killer mosquito season and it's only June!


Finding the right bug spray for your baby can be a hassle. Infant skin is incredibly sensitive, and the last thing any parent wants is a rash and a cranky baby on a hot summer afternoon. But where does that leave you, and your baby when the mosquitoes are out, and your little one wants to crawl in the grass, not sit in the stroller behind a bug shade?


Ta da! In comes organic, all natural, specially made for babies insect repellent. Our personal favorite is by California Baby but unfortunately it's only for babies six months and older. Ask your doctor if it's okay to put it on your younger one!
Another favorite is by Natural Organic Baby and with all natural ingredients like bayberry bark, fennel seed, chamomile, and ginger root you're going to have not only a bug free tot, but a sweet smelling one! Who wants to smell the stinky medical smell of bug spray anyway?

So don't fear this summer, and let your infants go wild on the lawn, dads! And let us know if you have any suggestions for staying bug free this summer.
Posted: 6/24/08