News
The latest news on this change — carefully culled from the world wide web by our change agents. They do the surfing, so you don't have to!
So Long, Fluffy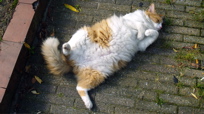 File under sad but true: As the economy falters, some people are choosing to say good-bye to their pets.

I come from a family that is crazy about animals (dogs especially). So it was truly heartbreaking for me to read a recent story on how more and more people are choosing to give up their pets because of the bad economy.

In fact, the population growth at animal shelters in many states—including Connecticut, Nebraska, Texas, Utah—is so high many are turning away people looking to give up their pets. Even worse: the shelters are euthanizing animals at a faster rate.

And with the average annual cost of owning a dog at about $1,400, and the average annual cost of a cat at about $1,000, it's not surprising there has also been a decline in the number of people looking to adopt pets.

For those people looking to bring a pet into their home, I think this story shows how important it is to adopt from a local shelter. There are so many cute and cuddly animals looking for a loving home! And unless you want a show dog, why spend the money going to a breeder?

Share your story of adopting a pet with us below. Or let us know what you think about the wave of people giving up their pets.
Posted: 12/29/08