News
The latest news on this change — carefully culled from the world wide web by our change agents. They do the surfing, so you don't have to!
Pet Food Recall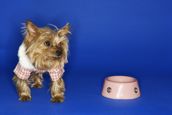 Check your pet food label before feeding your furry friend tonight: Mars Petcare US has announced a voluntary recall of all dry pet food products, citing potential contamination with salmonella.

The recall affects all food produced at the company's plant in Everson, Pa. between Feb. 18 and July 29. The recall reaches 31 states and various brands and said the action was taken solely as a precaution (so far, no animals have actually fallen ill). The brand names include some items under the names Country Acres, Retriever, Doggy Bag, Members Mark, Natural, Ol' Roy, Special Kitty, Paws & Claws, Pedigree, Wegman's, Pet Pride, PMI Nutrition and Red Flannel.

The company said consumers should look for "17" as the first two digits of the second line on the UPC for products affected. For Pedigree products, they should look for 'PAE' on the bottom line. If you have any questions or concerns, you can also call 1-877-568-4463 or log onto Petcare.mars.com.
Posted: 10/1/08