News
The latest news on this change — carefully culled from the world wide web by our change agents. They do the surfing, so you don't have to!
Pet Fancy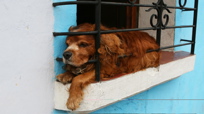 The current economy means we're all cutting back on spending—even with the holidays looming (bah humbug!). But one group that isn't watching their pennies? Pet owners.

According to the American Pet Products Association, Americans will spend $43.4 billion this year on their pets—26% higher than what was spent in 2004.

And for our little furry friends, the news just keeps getting better: the group estimates that spending is on pace to grow more than 13% by 2013 (that's a LOT of tiaras and puppy sweaters). In fact, a poll earlier this year in ShopSmart says female shoppers are more likely to buy cheaper food and toiletries for themselves, but are refusing to switch to less-expensive pet food and personal care items.

We've often joked that if reincarnation does in fact exist, we want to come back as our pets.They spend most of the day napping and don't have to worry about pesky things like the economy. When it comes to your pet, is money no object—or are you scaling back on spending in all areas?
Posted: 11/19/08