News
The latest news on this change — carefully culled from the world wide web by our change agents. They do the surfing, so you don't have to!
It's Kitten Season....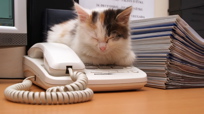 There are cat people, and there are dog people, but we're pretty convinced everyone is a kitten person. Kittens are adorable whimsical little things full of mischief and mayhem. Their rumbling purrs make even the toughest men melt, and they're one of the most low maintenance pets out there. Food, water, some string and a litter box are all you need to have a happy pet.

But if it's so easy, why are there so many kittens in shelters every year with no home? Many people don't spay or neuter their animals for a variety of reasons; they can't afford to, sheer laziness, and the fact that they consider their pets "less of a man or woman" without their "parts" intact. The truth is, if you choose not to fix your animal and it continues to breed there are going to be dozens at shelters that get put down because they have no homes.

Kittens make excellent pets for anyone because their so easy to care for. If you head over to your local shelter and adopt one you're saving a life, and when you spay or neuter your animal you're making a small dent in helping control the overflow in shelters. For tips on how to introduce a new cat or kitten to your home check out this article on pet adoption.

And share your positive pet adopting stories! Do you now have a cat and can't live without him?
Posted: 6/19/08