News
The latest news on this change — carefully culled from the world wide web by our change agents. They do the surfing, so you don't have to!
It's a Twister!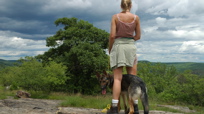 "Auntie Em! Auntie Em!"

As the twister approaches their Kansas farm, Dorothy clutches her little dog Toto tightly in her arms. Have you given much thought to how you would care for your pets during an emergency?

The recent earthquake in China has drawn attention to the fate of pets during a disaster. Other natural disasters of recent years, such as the tsunami in Asia and Hurricane Katrina, have similarly shown the tragic death and displacement of pets.

While this is clearly secondary to the disaster-related loss of human lives, it's nonetheless heartbreaking and cause for pet owners to consider what would happen to their beloved animals in the case of an emergency.

It's very important to have a plan. Just as you would have a plan for your family in the event an emergency, so you should have one for your pets. Ready.gov has detailed emergency preparedness plans for pets. They have an informative video on how to create an emergency pet kit, along with a downloadable pet owner's brochure which has a checklist for your kit. Additionally, they offer great suggestions like creating a buddy system with other pet-owning neighbors, where you agree to look after each other's pets if one of you is unable to do so.

Do you have an emergency plan for you pets? Please let us know if you have some helpful suggestions for other pet owners.
Posted: 6/2/08