News
The latest news on this change — carefully culled from the world wide web by our change agents. They do the surfing, so you don't have to!
Cute Pet Costumes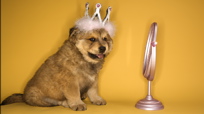 Anyone who has adopted a cuddly cat or fun-loving pup knows Halloween is a great time to have a little fun with (or at the expense of?) your pet!

There are almost as many costume choices for animals as there are for people these days. Reader's Digest is showcasing a few in this video and then asking viewers to vote for the cutest. Do you have a fave? And if you're a pet parent, do you dress your furry friend up for Halloween?
Posted: 10/17/08