News
The latest news on this change — carefully culled from the world wide web by our change agents. They do the surfing, so you don't have to!
Cat Wanderer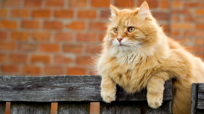 If you've adopted a cat, the thought of letting them out into the "wild" to hunt probably sends shivers down your spine. Not because you enjoy keeping your feline in captivity, but because you simply don't want them to get squashed as they chase a chipmunk across the street. Thank goodness you're not the only one, and some wacky inventions have been brought forth so that your pet can enjoy the outdoors, without the dangers of modern society.

If you feel like spending a pretty penny you can purchase an enclosure kit, which is essentially a giant outside cage for your cat to climb, and relax in. We think it seems like a little much, but we know there are some cat lovers out there who would do anything for their pets!

If keeping the cat caged seems more like a trip to the kennel than a fun way to spend the afternoon, try out the Radio Fence which while still pricey will allow your pet to wander around the yard without being enclosed. When he gets too close to the fence it will beep and if the cat continues to wander it will give a "static correction" until he returns to the correct spot. We think that's a nice way of saying your cat's going to get shocked until he heads back towards the house.

If you are a city dweller and don't have the extra money to buy your cat a condo there's always the window veranda which lets your pet sniff some fresh air, and catch some rays, while still staying "inside."

Do you think these pet contraptions are silly or brilliant?
Posted: 6/30/08