News
The latest news on this change — carefully culled from the world wide web by our change agents. They do the surfing, so you don't have to!
Wanted: A Child to Love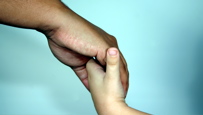 Prospective parents are forced to jump through hoops to adopt—and even that doesn't guarantee them a child.

With certain states now happily barring people from adopting (hello, Arkansas), you'd think someone would be doing something to make it easier in other parts of the country. Well, think again. According to a recent report by Listening to Parents, adoption—no matter where you live in the US—is harder than ever.

It seems like a no-brainer to us: a loving parent wants to bring a child into their loving home. While many assume it's difficult because everyone wants a cute and cuddly newborn—and there's not enough of them to go around—that's not the case. In fact, a large majority of people polled would be thrilled with a child older than 6. And there are even far more people willing to adopt teens and kids with disabilities.

So, what's the problem? Research shows that many foster care bureaucracies handle initial calls badly and simply don't listen to parents throughout the process. Not to mention that prospective parents are often treated like criminals, being fingerprinted on site and answering intimate personal questions over the phone. Those two factors alone can make the average, law-abiding, "I have nothing to hide" citizen queasy.

The result: for every 1,000 people who call a public child welfare agency seeking to adopt, only 36 do so. And that's a real shame because there are currently over 100,000 kids in foster care just waiting to be placed into permanent loving homes.

Ok, now we're depressed, but we hope you can lift us out of it. For those of you that are going through—or have completed—an adoption, how is the process? What would you change, and what do you feel works? Share a happy ending if you've had one!
Posted: 11/12/08