News
The latest news on this change — carefully culled from the world wide web by our change agents. They do the surfing, so you don't have to!
Desirable Streetcars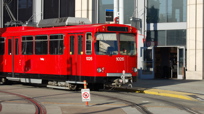 Several cities like San Francisco and Toronto still have an extensive streetcar system, but for the most part, streetcars remind one of the old days, before every household owned at least one car and prior to congested roadways. However, according to The New York Times, more than 40 cities have plans in the works to bring streetcars back to the streets!

Streetcars typically connect neighborhoods within a city, rather than transporting people to the suburbs, so reintroducing them is a way to reinvigorate downtowns. Additionally, reducing traffic and gas-price conscientiousness are obvious factors in finding alternate modes of getting around. In an effort to go green, public transit is becoming more popular and more economical for urban commuters.

Maybe your city won't be seeing streetcars any time soon, but have you changed your way of traveling or commuting because of energy or traffic issues? Are you reconsidering the many car trips you are probably making on a daily basis?
Posted: 8/19/08