Green Eggs and Books.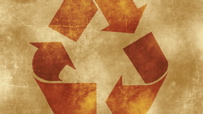 Um, excuse me, the scratch-and-sniff books are in the children's section.

Oh, I'm not scratching. Just sniffing—to see if I can tell the difference between books printed on recycled paper from those that aren't.

Regardless of how it smells, or even looks, recycled paper means more trees still standing. When you purchase books, look for ones that were printed in an environmentally friendly way.

This month, DK books begins printing a line of eco-friendly books on recycled paper. Not only are the books printed on recycled paper, but they also use vegetable-based inks and are printed locally, to minimize the distance a book has to travel.

Random House also announced in 2006 that by 2010, they plan to increase the amount of recycled paper they buy for books from 3% to 30%.

You can't help but wonder, will they make recycled scratch-and-sniffs?
Posted: 6/17/08