News
The latest news on this change — carefully culled from the world wide web by our change agents. They do the surfing, so you don't have to!
High Octane Fashion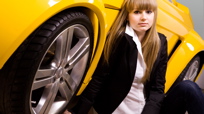 Don't you just hate that feeling on a Saturday night when you can't find the right sports car to match your dress? Well thanks to
the good folks at Lamborghini, your nights of hand wringing and cursing the fashion gods are over. The Italian auto brand has teamed up with its most fashionable compaesano, Versace, to create the Lamborghini Murciélago LP640 Roadster Versace. The vehicle with a mystery price tag will debut in the fall and will feature hand-embroidered leather seats and dash with the designer's official logo. The piece de resistance, a transparent hood, is somehow reminiscent of the famous plunging neckline on the seafoam green dress the designer famously created for Jennifer Lopez a few years ago. Both of them allow onlookers an extra peek.

Just in case driving the Versace Lamborghini isn't enough to show brand loyalty, the car also comes with its own matching accessories. According to the L.A. Times Auto blog, the new cars will come with "a trolley bag, suit carrier, sports bag, briefcase, suitcase, gloves, driving shoes, belt, wallet, key ring, beauty case, a hat and (so the press release says) a pair of jeans." For the love of Gianni, please let those jeans be made of red leather!
Tell us what you think about this new car.
Posted: 7/2/08