News
The latest news on this change — carefully culled from the world wide web by our change agents. They do the surfing, so you don't have to!
Smile If You Mean It!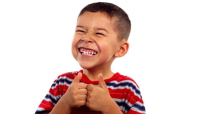 Smiling is contagious and thank goodness for that! When it comes to facial expressions associated with being happier, smiling (perhaps followed by laughing) comes to mind first. It's hard to decide if smiling yourself or making someone else smile is more fun, but both should be part of every day!

Ali Hale of the self-improvement site, "PickTheBrain," came up with 10 ways to make others smile, in case you're short on ideas or want to try something new. She starts out with the simple, such as writing a thank-you note to someone. But forget the ease of sending an email! Really WRITE a thank-you note about anything and hand-deliver it if possible.

Other ideas range from making someone their favorite breakfast to creating a photo album of memories and giving it as a gift. Remember those little "cards" you'd make for your parents when you were little (or without money)? "Good for one chore" or "good for 5 hugs?" Try making one for "a day off" and additionally, planning an exciting day of events for the person.

What are your smile guarantees that make others smile or those that work on you?
Posted: 9/26/08