Ariane's Blog
A place to explore, embrace & make change happen
Monday, September 7, 2009
Patience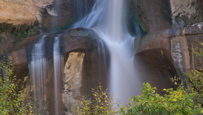 I've been struggling through some of my own stuff, personally and professionally, and the only word I keep getting to is Patience. Not my favorite word, believe me. I have never made that word my friend. I've been mad at people who say it to me. I've also been good at comparing myself to others who didn't seem to have to learn the patience game. Today, I've decided to bring that word into my vocabulary again. And calmly observe how my life changes. I will report back and please do the same!

When we think of change, we think of action. We don't think of patience.

We have forgotten how to wait. Patience is a word that we don't like, don't value, and don't think is powerful. Can you imagine saying to someone who—yet again—asks you if you are dating someone, or if you've made that big decision. "I am waiting."
This statement is not valued in our culture. And yet, being able to wait is a real gift that many of us have thrown out of our treasure box. Waiting for the right moment, waiting for the sign from the Universe, waiting for your body, your intuition to let you know the right day and time. Think about it. Trees wait. They know the day to let go of their leaves...and wait, naked, knowing fully that the next batch is on its way.
Think of a pregnant woman. Holding that thought is probably the only time where we give ourselves full permission really to wait and trust. All that is required from her is patience, to wait, content, with no sign of anxiety, letting life take its natural course.

With anything we are struggling with, so many of us think more goals, more vision boards, more action will change things for the better. Yes, these are important and yet what we must also do is wait until the mud in the water settles. Only then will the water be clear and the right action arise naturally. Stop stirring up your waters with one more thing to do thinking that will bring you to the next step.
I'd like to offer another path. When you are silent and waiting, something is still growing. That something is your truth, your wisdom, the part of you that knows what's next. It's the part of you that's not in a hurry. We are part of something bigger and that "something" doesn't wear the same kind of watch as we do!

Today, ask yourself if the best thing to do with what you've been struggling with, is simply to wait. You've planted some seeds, taken some action. You know what you want. It's a time to be positive, to be ready for something fabulous. It's a time full of mystery and uncertainty.

When I had just graduated college, one of my best friends, Philip, gave me a quote that I still love and refer to. I put it in my book as well, under the Change Demon, "Impatience." Even back then I was in a rush, a major rush! Here's the quote from Rainer Maria Rilke.

"Be patient towards all that is unsolved in your heart and try to love the questions themselves…. Do not now seek the answers, which cannot now be given to you…and the point is to live everything. Live the questions now. Perhaps you will…without noticing it, live along some distant day into the answers."